What has the growth been like in China's semiconductor sector? And where will the new billions of investment go? At the Crayfish China Semiconductor Roundtable, our Founder & CEO @Ting Zhang took the audience through the key figures and trends to set the scene for discussions with CEOs in the UK and Europe:
​China Semiconductor Industry – Growth
China started massively investing in semiconductors a few years ago but the sales did not take off until mid 2018, exactly when US-China Trade war started under the Trump Administration (July 2018).
Since 2020, global chip sales from Chinese companies are on the rise, due to worsened U.S.-China tensions and a stepped-up national effort to advance China's chip sector, including government subsidies, procurement preferences, and other preferential policies. In 2020, the Chinese semiconductor industry grew by 30% to reach nearly $40 billion in sales, and captured 9% of the global market, more than double that of 2015. China surpassed Taiwan for 2 consecutive years 2019 and 20, Closing in on Europe's and Japan's.
Top 10 Chinese Semiconductor Firms by Revenue

Nearly 15,000 Chinese firms are registered as semiconductor enterprises in 2020. Most are startups, but there are also some leading Chinese semiconductor firms expanding domestically, and even globally, Led by Huawei's HiSilicon.
Chinese OEMs and Their Chip Products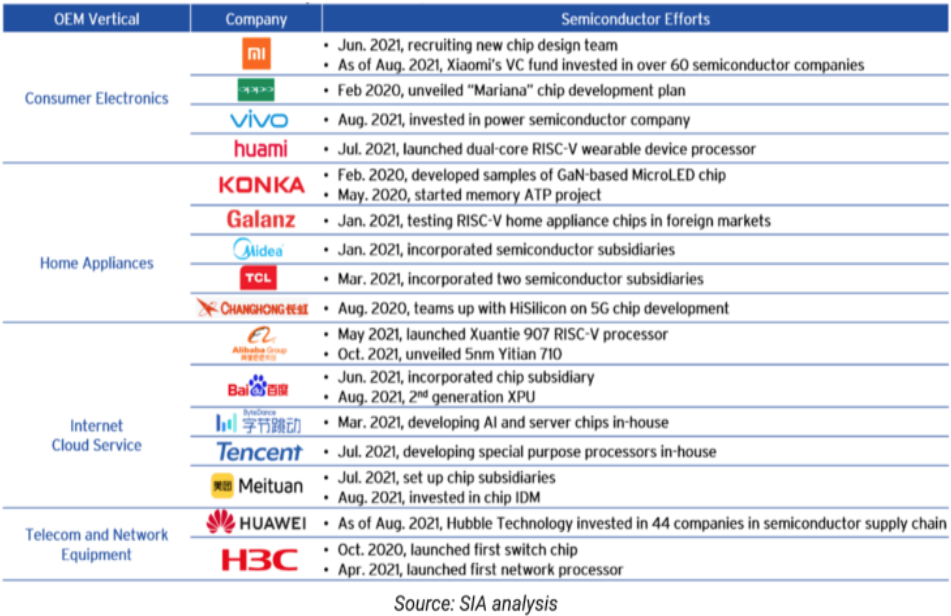 Meanwhile, more new firms in China rushing into the semiconductor industry.
Chinese consumer electronics and home appliance OEMs and leading internet firms have also been ramping up efforts to expand into the semiconductor sector by designing chips in-house and making investments in established semiconductor firms. As a result, some notable progress was made in building domestic supply chains over the past two years.
China's Chip Manufacturing Expansion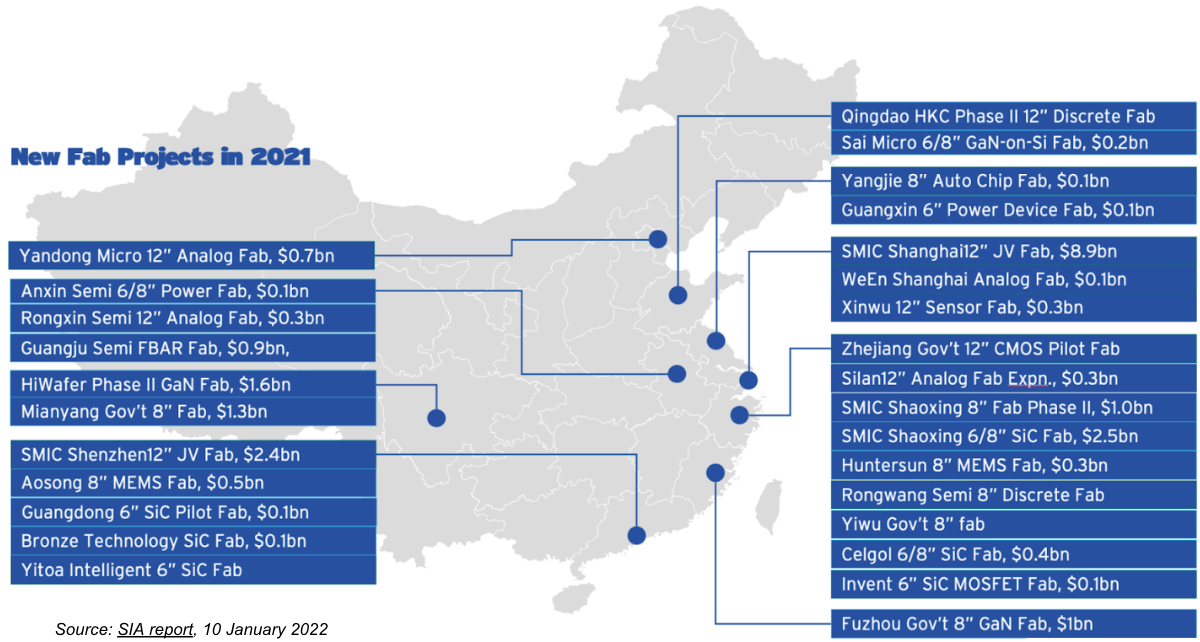 In 2021, another 28 additional fab construction projects with total $26 billion in new planned funding were announced. SMIC alone is going to invest more than $8 bln for a new chip plant in Shanghai. Most of these projects are in coastal cities, other than two in Sichuan. [Source: SIA blog, 10 January 2022]
China's rapid growth in semiconductor chip sales is likely to continue – IF maintaining 30% CAGR, China could nearly double the market share of 2020 by 2024, (if the growth rate of other countries stays the same). That would place China behind only the US and South Korea.
You can also watch the video clip of Ting's presentation below.
​
Follow Crayfish.io for the latest business trends and insights from China. Have you got a question? Contact us at hello@crayfish.io